Other things seen with ultrasound
Of course evidence of CTS is not the only thing seen on the ultrasound scans and a variety of other lesions may be seen in the surrounding tissues. The scanner can also be used to study other nerve lesions. I am grateful to the patients whose images appear below for allowing me to use them here on the site.
Ganglion cysts appear as very hypo-echoic (dark) spaces, sometimes with internal subdivisions yet without any evidence of flow on doppler imaging: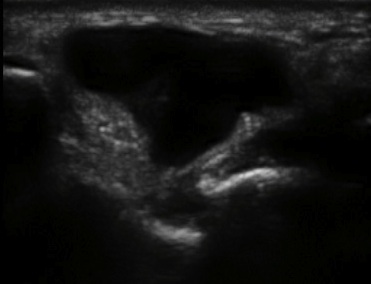 This lesion below, clearly seen at the base of the little finger as a soft, somewhat lobulated, swelling, extending into the proximal phalanx of the little finger...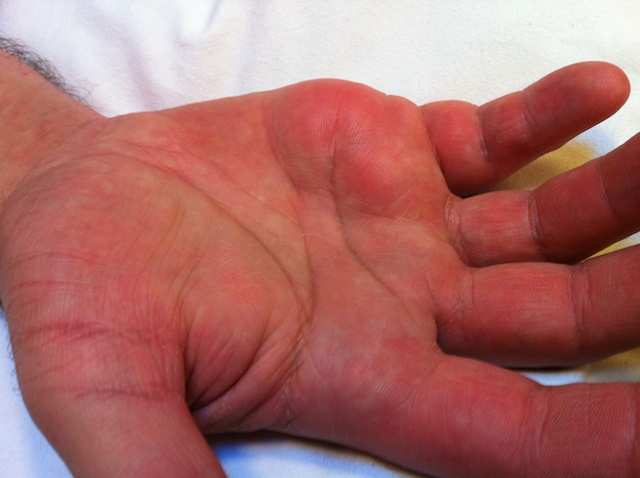 ...is probably a lipoma, showing as a fairly uniform, evenly speckled, slightly encapsulated structure on ultrasound, again without evidence of internal flow on doppler imaging. (We do not have histological confirmation of this as yet)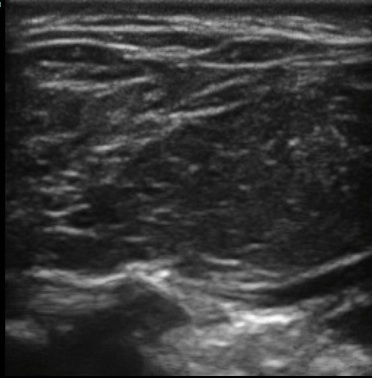 BACK - to the main ultrasound page
Revision date - 30th January 2012